Nothing directly to do with io 0.0.1 beta++ specifically (nor machine improvisation generally), however, this does feature the constructor and the on-stage colleague of io, and was recorded around the time of the Mach 26, 2009 development and testing process of the musical automaton.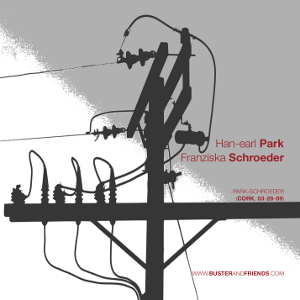 The complete recording of the March 26, 2009 performance by saxophonist, performer and theorist Franziska Schroeder and guitarist, improviser and constructor Han-earl Park, now with liner notes by Áine Sheil, is now available for download via Bandcamp. [More…]
Originally released in September 2010, the recording was the first in a series of download releases hosted at busterandfriends.com. This bandcamp-hosted edition adds liner notes by Áine Sheil, and the option to download the recording in multiple formats including lossless.
Unlike some of the past download releases from busterandfriends.com, this one, like Sikora-Smith-Park (Cork, 04–04–11), is hosted at Bandcamp, and available as a 'name your price' album. You can still download the recording for free (name $0 as your price) with certain restrictions, but your generosity will help support the performers and their work.
Also by Han-earl Park and Franziska Schroeder

updates
09–24–12: correct error in dates in artwork and Bandcamp album data.